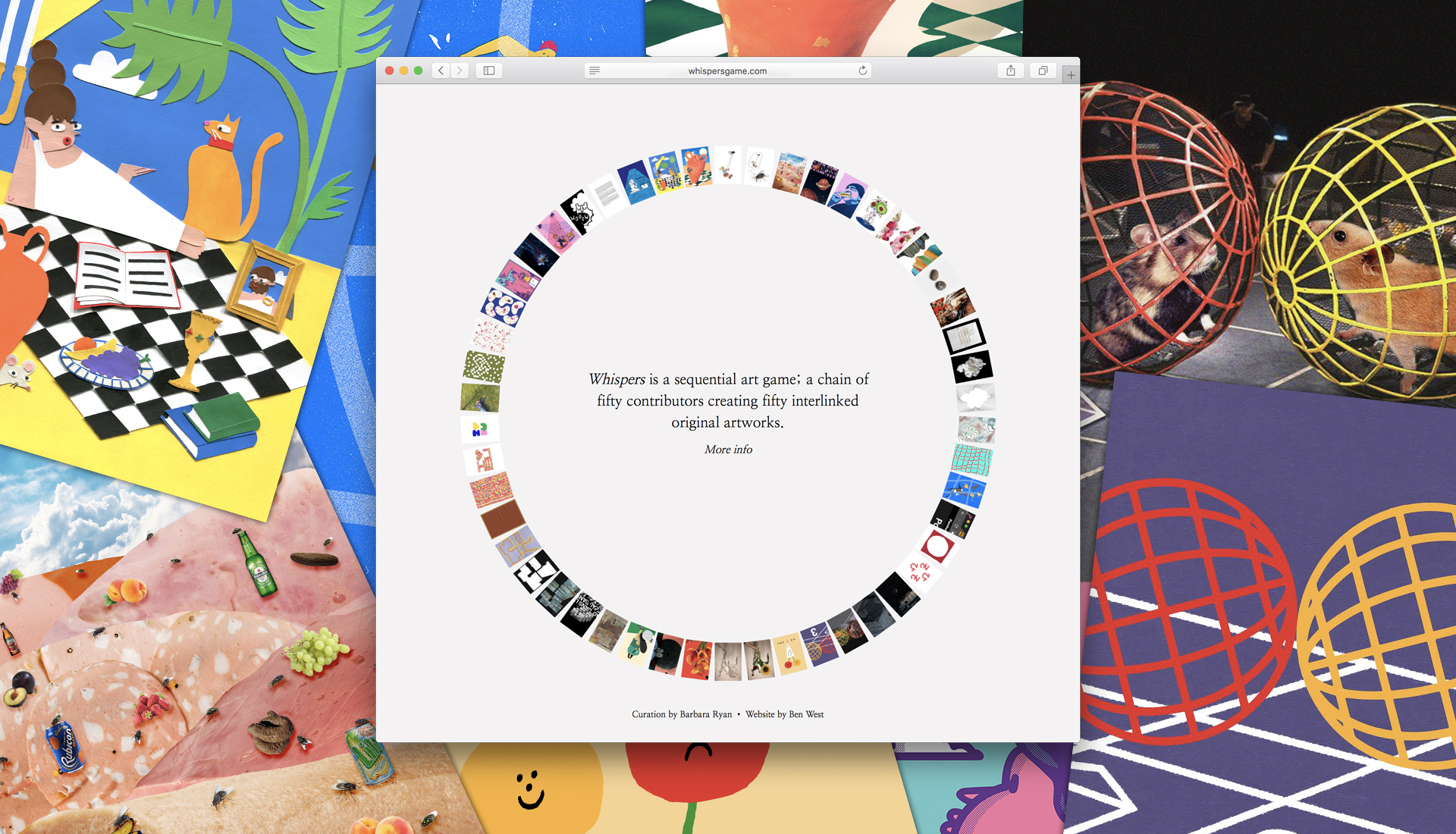 Whispers
Whispers
is a sequential art game, made up of a chain of 50 contributing artists, creating 50 interlinked original artworks.The game began in 2017 and the full exhibition can be viewed at
whispersgame.com
My role - Concept, curation & creative direction
Website - Ben West
Surface Tension
A journalist passes through a flooded city by boat, reporting on the devastating effects of a major flood – it's an image that you'll most likely recognise from the news. Trees, electricity poles and roofs stick out above the surface while cars and personal belongings float along along and the city's residents have (hopefully) fled. It's an intense, disruptive kind of disaster that's becoming more and more common.
For the 8th Edition of the
Amsterdam Light Festival
,
Tom Biddulph
and I created the artwork 'Surface Tension' in response to the theme Disrupt. Transorming a part of Amsterdam's famous canal into a drowned city street; a warning to viewers about global rising water levels and devastating flooding around the world.
Producers - Bob van der Klaauw & Jeroen Henstra
3D design - Ivano Salonia

Construction - Daan 't Sas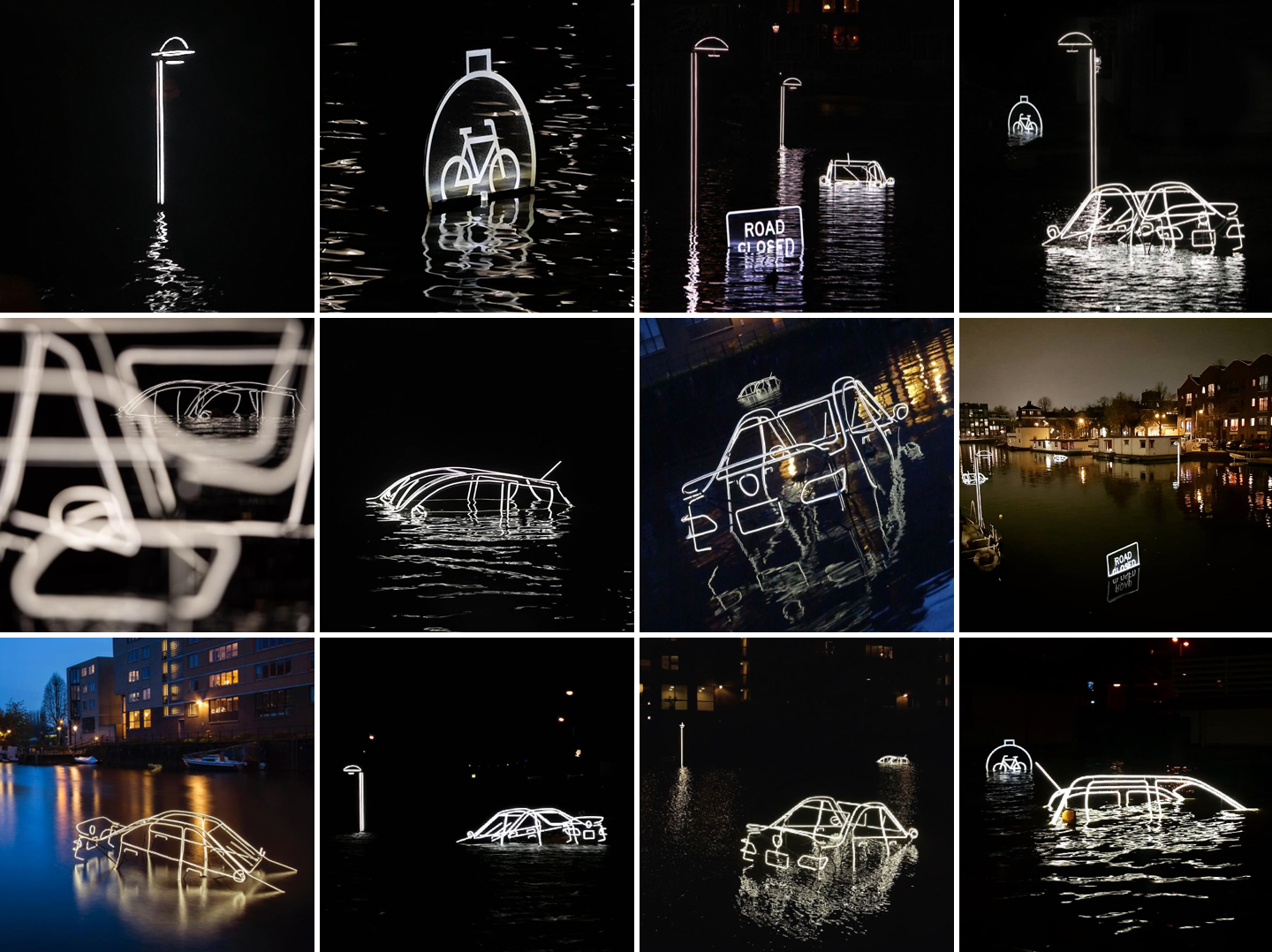 Images sourced via
#amsterdamlightfestival
BFR MAG: The Colour Issue
Issue 26 of
BFR Mag
is dedicated to all things colour related. 44 pages of technicolour goodness.
Includingg contributions from Gus Scott, Dad Agency, Adam Bletchly, Harry Grundy and Cecilia McCormick - to name a few.
Featured on
It's Nice That
and
Stack Magazines
.
My role - Creative Director, graphic design and editor
Night Vision
"The medium is the message" coined by Marshall McLuhan was the theme for the 7th Edition of the
Amsterdam Light Festival
. Together with
Tom Biddulph
we created our light sculpture 'Night Vision'.
Over millions of years our eyes have become incredibly specialised instruments; a window through which light is converted into information, allowing us to 'see' anything and everything before us. As boats pass through
Night Vision
, it as is if they themselves are a beam of light entering the eye through the pupil.
Constructed by Invent Design
Book your next sci-fi story
Booking.com - Book your next story
Why do we love fiction? Because we dream of that kind of life. Full of adventure, the unexpected and meaning. A life full of stories. The thing is, it's all within your reach - all you've got to do is travel. And we've got 15,000 Booking.com employees* to prove it in "Book your next story", our latest campaign for the world's #1 accommodation website.
*This campaign has been made entirely of employee holiday footage (almost 30,000 individual videos).
My role - art direction at Cloudfactory

Additional credits:

Creative directors - Jessica Kersten & Sandrine Huijen

Copywriter - Mariusz Wysocki
Directors - Jan Boon & Lennart Verstegen
Editor - Benjamin Putland
Production company: Wefilm
Book your next show stopping story
Book your next adventure story